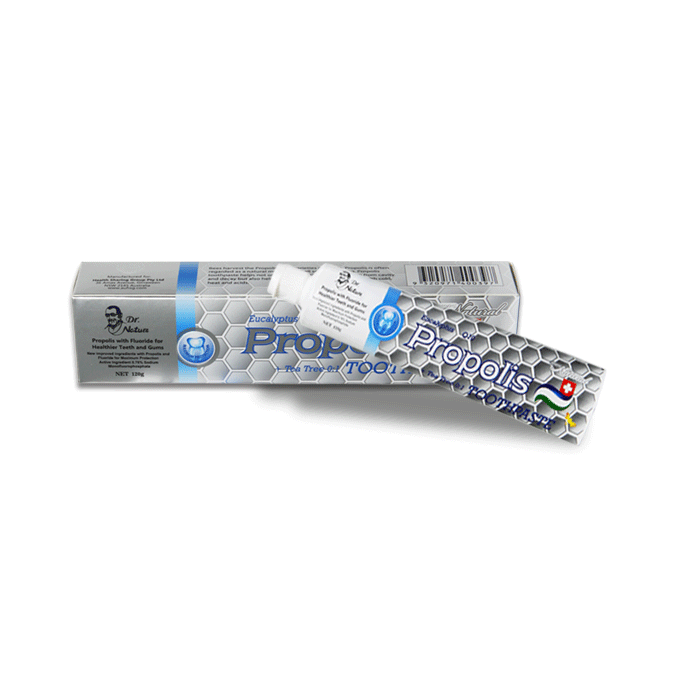 Dr. Nature Propolis Toothpaste 120g
Dr. Nature Propolis Toothpaste contains natural propolis also commonly known as "bee glue", a sticky substance made by the honeybees from resins from trees and conifers. It is used by the honeybees as a "putty" to seal cracks and openings in the hive and to strengthen and repair their honeycombs.
Features and benefits
Dr Nature Propolis Toothpaste fights bacteria, prevents tooth decay, heals bleeding gums, and prevents gums from receding and bad breath, natural toothpastes containing propolis have become a popular, healthy alternative to synthetic brands of toothpastes, especially when mouth and gum disorders are concerned.
Dr Nature Propolis Toothpaste + tea tree oil & Q10 remove dental plague and tartar, remove cavities and bad breath.
Ingredients
Calcium carbonate, water(aqua), glycerin, silica, cellulose gum
Flavors(aroma), propolis wax, propylene glycol, sodium sacharin
Methylparaben, mineral oil, peg-60 hydrogenated. bha, tea tree oil
Sodium monoflurophosphate, eucalyptus oil, coenzyme Q10
Directions
Warning and contradictions:
This product contains propolis which has been reported to cause severe allergic reactions. If irritation or swelling of the mouth occurs, discontinue us, if symptoms persist consult your healthcare professional.
Dr. Nature
Other Products